Introduction
What is Commissioning?
Commissioning is a continuous process of planning, agreeing and monitoring services. It's all about delivery of outcomes rather than outputs or services.
Commissioning is about asking the right questions and three key questions kick start commissioning:
What outcome do we want to achieve?
What do our users want?
What's the best method to achieve these?
What outcomes do we want to achieve?
Before looking to review your service delivery, it's important to identify what outcomes you want to achieve, as commissioning is all about delivering the right outcomes for users. When thinking of the outcome it's about thinking wider than just providing a service.
REMEMBER! There is a difference between outputs and outcomes. For example if you wanted to review your street cleansing service your outcome may be 'streets that are seen as clean by everyone'. A way to achieve this outcome may be to encourage more residents to take part in litter picks. The physical activity of people taking part in litter picks is an output and can be measured by the number of litter picks. The actual outcome of 'streets that are seen as clean by everyone' is something that is achieved from a collection of your different outputs. For this example the outcome is more likely to be measured by a satisfaction survey, to gain your residents perception of their streets.
You won't know all of your outputs at the beginning, as these are identified during the commissioning cycle by designing the best solution for delivering your outcomes.
Outcomes should link up to the corporate objectives and so these should be agreed with CLT (Corporate Leadership Team).
If you need help with this process you can contact the Transformation Team, who will be able to provide you with support.
Maidstone's Commissioning Cycle
After deciding on the outcome you want to deliver; now you can follow the commissioning cycle to help you achieve this.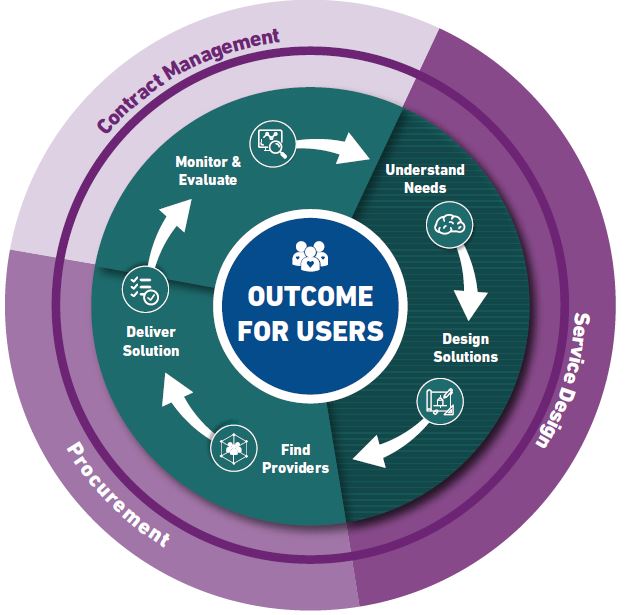 Service Design
The first two elements of the commissioning cycle relate to service design. Ultimately this is about understanding the user needs and then considering all options to design a solution that best meets that need. Service design engages users throughout the design process so that decisions are made using evidence, not assumptions. There is the Service Design Guidance, which may be useful to use at this point.
Procurement and Contract Management
The final three parts of the commissioning cycle relate to procurement and contract management. It's all about ensuring you fairly assess the different providers and make sure early in the process that you're set up to be able to monitor if the outcomes you want are being delivered.